2020 US Senate Elections Betting Odds
When the elections roll around, you will be able to wager on the 2020 US Senate election odds. Being part of a democracy means getting to elect your leaders and representatives while being part of a country that allows legal sports betting allows you to go deeper and wager on the Senate elections. There are a large number of candidates fighting for the 34 seats up for grab on this go around. A total of 22 of the seats are held by the Republican Party, while the Democratic party holds 12 of them. In order for the Democrats to take control, they would need to gain four seats, but betting on the elections is more than just who will take control of the Senate.
With offshore betting sites, you are able to place a wager on the most notable Senate elections. Be sure to get your wagers in early, as the lines will close well before the Tuesday, November 3 election date. Sometimes the incumbents are the sure favorite; however, that doesn't stop the masses from electing a new face into office. Be sure to review each state's candidates, as their policies and viewpoint can help put them closer to becoming an elected official dependent on the states' outlooks on policy. When you are ready, look at the betting sites we recommend to sign up with, as they provide welcome bonuses and legal as well as safe opportunities for betting on the 2020 Senate elections.
Republican Incumbent Candidates:
Dan Sullivan – AK
Martha McSally – AZ
Tom Cotton – AR
Cory Gardner – CO
David Perdue – GA
Jim Risch – ID
Joni Ernst – IA
Pat Roberts – KS (retiring)
Mitch McConnell – KY
Bill Cassidy – LA
Susan Collins – ME
Cindy Hyde-Smith – MS
Steve Daines – MT
Ben Sasse – NE
Thom Tillis – NC
Jim Inhofe – OK
Lindsey Graham – SC
Mike Rounds – SD
Lamar Alexander – TN (retiring)
John Cornyn – TX
Shelley Capito – WV
Mike Enzi – WY (retiring)
Current Republican Candidates:
Stanley Adair - AL
Bradley Byrne - AL
Marty Hatley - AL
John Merrill - AL
Arnold Mooney - AL
Roy Moore - AL
Ruth Page Nelson - AL
John Serbin - AL
Jeff Sessions - AL
Tommy Tuberville - AL
Dan Sullivan - AK
Tom Cotton - AR
Cory Gardner - CO
Casey Chlebek - IL
Mark Curran - IL
Peggy Hubbard - IL
Robert Marshall - IL
Omeed Memar - IL
Pretson Gabriel Nelson - IL
Dean Seppelfrick - IL
Tom Tarter - IL
Joni Ernst - IA
Kris Kobach - KS
Roger Marshall - KS
Bryan Pruitt - KS
Steve Roberts - KS
Susan Wagle - KS
Mitch McConnel - KY
Bill Cassidy - LA
Shiva Ayyadurai - MA
Bob Carr - MI
John James - MI
Rob Barret Jr. - MN
Jason Lewis - MN
Theron Preston Washington - MN
Cindy Hyde-Smith - MS
Matt Innis - NE
Ben Sasse - NE
Don Bolduc - NH
Bryant Messner - NH
Bill O'Brien - NH
Tricia Flanagan - NJ
Rik Mehta - NJ
Stuart Meissner - NJ
Natalie Lynn Rivera - NJ
Hirsh Singh - NJ
Gavin Clarkson - NM
Mick Rich - NM
Sandy Smith - NC
Garland Tucker - NC
Thom Tillis - NC
JJ Stitt - OK
Robert Schwartz - OR
Dwayne Buckner - SC
Lindsey Graham - SC
Peggy Kandies - SC
Michael J. Lapierre - SC
Joe Reynolds - SC
Scyller Borglum - SD
Mike Rounds - SD
Josh Gapp - TN
Bill Hagerty - TN
Stokes Nielson - TN
Manny Sethi - TN
John Cornyn - TX
Dwayne Stovall - TX
Mark Yancey - TX
Virgil Bierschwale - TX
John Anthony Castro - TX
Gary Adkins - VA
Alissa Baldwin - VA
Omari Faulkner - VA
Roger Franklin - VA
Daniel Gade - VA
Thomas Speciale - VA
Scott Taylor - VA
Victor Williams - VA
Shelley Moore Capito - WV
Allen Whitt - WV
Mark Armstrong - WY
Cynthia Lummis - WY
Joshua Wheeler - WY
Democratic Incumbent Candidates:
Doug Jones – AL
Christopher Coons – DE
Dick Durbin – IL
Ed Markey – MA
Gary Peters – MI
Tina Smith – MN
Jeanne Shaheen – NH
Cory Booker – NJ
Tom Udall – NM (retiring)
Jeff Merkley – OR
Jack Reed – RI
Mark Warner – VA
Declared Democratic Candidates:
Doug Jones - AL
Diana Bray - CO
Lorena Garcia - CO
John Hickenlooper - CO
Andrew Romanoff - CO
Stephany Rose Spaulding - CO
Michelle Ferrigno Warren - CO
Angela Williams - CO
Trish Zornio - CO
Chris Coons - DE
Jess Scarane - DE
Scott Walker - DE
Sarah Riggs Amico - GA
Akhenaten Amun - GA
Marckeith DeJesus - GA
Jon Ossoff - GA
Ted Terry - GA
Teresa Tomlinson - GA
Elaine Williams - GA
Nancy Harris - ID
Travis Oler - ID
James Vandermaas - ID
Dick Durbin - IL
Marilyn Jordan Lawlor - IL
Michael T. Franken - IA
Kimberly Graham - IA
Theresa Greenfield - IA
Eddie Mauro - IA
Barbara Bollier - KS
Usha Reddi - KS
Robert Tillman - KS
Jimmy Ausbrooks - KY
Charles Booker - KY
Mike Broihier - KY
Steven Cox - KY
Amy McGrath - KY
Bennie J. Smith - KY
Antoine Pierce - LA
Michael Bunker - ME
Sara Gideon - ME
Bre Kidman - ME
Ross LaJeunesse - ME
Betsy Sweet - ME
Joe Kennedy III - MA
Shannon Liss-Riordan - MA
Ed Markey - MA
Allen Waters - MA
Gary Peters - MI
Tina Smith - MN
Jensen Bohren - MS
Mike Espy - MS
Wilmot Collins - MT
John Mues - MT
Cora Neumann - MT
Chris Janicek - NE
Larry Marvin - NE
Angie Philips - NE
Dan Wik - NE
Jeanne Shaheen - NH
Lisa McCormick - NJ
Harsh Naik - NJ
Ben Ray Lujan - NM
Cal Cunningham - NC
Trevor Fuller - NC
Erica D. Smith - NC
Steven Williams - NC
Atul Goel - NC
Abby Broyles - OK
Tyler Dougherty - OK
Bevon Rogers - OK
Mike Workman - OK
Michael David - OR
Jeff Merkley - OR
Jack Reed - RI
Gloria Bromell Tinubu - SC
Jaime Harrison - SC
Matthew Knights - SC
William Stone - SC
Justin Wooton - SC
Dan Ahlers - SD
Marquita Bradshaw - TN
Gary G. Davis - TN
James Mackler - TN
Chris Bell - TX
Michael Cooper - TX
Amanda Edwards - TX
Jack Daniel Foster - TX
Victor Hugo Harris - TX
MJ Hegar - TX
Sema Hernandez - TX
John B. Love III - TX
Adrian Ocegueda - TX
Cristina Tzintzun Ramirez - TX
Royce West - TX
Mark Warner - VA
Paula Jean Swearengin - WV
Chuck Jagoda - WY
Yana Ludwig - WY
Can I Legally Bet on The 2020 Senate Election?
You have plenty of opportunity for legally betting on the 2020 Senate Elections. State-operated sportsbooks generally do not offer betting lines on political races per their regulations. In this case, you should look to using an online sportsbook that accepts US residents and offers options for betting on the 2020 US Senate elections. There are hundreds of sportsbooks online that may seem like a wonderful chance to play the odds but let it be known that not every betting site is created equal.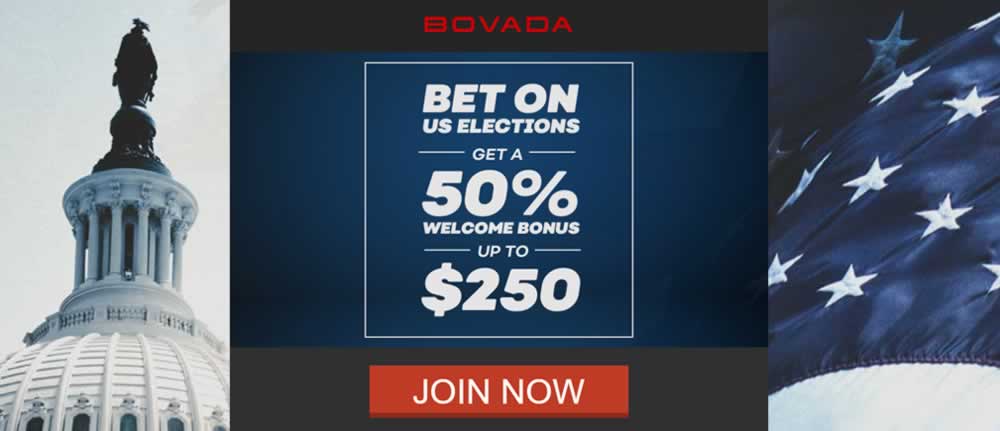 Top Online Sportsbooks That Accept Wagers On The 2020 Senate Races
When signing up with an offshore betting site, the first important feature to note is that they are physically located offshore. This standard allows both you and the operator to engage in business without the federal government able to pursue you or the site. Also, make sure they are regulated in their home country and have a proven track record of properly operating a sportsbook. The sites we recommend below, Bovada and SportsBetting, meet these standards and even provide more value in their welcoming bonuses, excellent customer service, and variety of betting options – especially on politics.
Bovada – Number One Choice For Senate Election Betting Odds
Signing up with Bovada is made easy, as their knowledge of betting lines extends from just sports betting. With political oddsmakers on the site, you have the option to wager on who will win the presidential election, governors' races, Senate seats, and various other prop bets. Sign up today and receive a welcoming bonus of up to $250, as the site will match 50% of your first deposit. Their interface will allow you to jump around between various games and betting options, making it your number one choice when looking to bet on the US Senate elections.
SportsBetting – Making Betting On Senate Races Easy With Cryptocurrency
If you are a fan of cryptocurrency and have enveloped a wallet that specializes in the altcoins, consider using it as a deposit at SportsBetting. Their 100% first-time crypto deposit match is the best in the industry, allowing you to receive up to $1,000 in free play. Many options still exist for those without the famed crypto just like the number of betting options provided by the site. Sports like football and basketball are covered but the political betting board brings even more excitement to the race.