The Iowa Caucus happens on February 3.
This will be the first time that people will vote for a Democratic candidate for 2020.
Online sportsbooks are putting down odds for who will win the first caucus of 2020.
DES MOINES, Iowa – The Iowa Caucus begins on February 3 and bettors can wager on which Democratic Candidate they believe will win the caucus.
Now that it is 2020, it is time for voters to decide who they want to take on President Donald Trump. In 2019, Democratic candidates have been campaigning to convince voters why they are the best to challenge the President. All of that work is coming to a head because the Iowa Caucus is where the first votes shall be placed.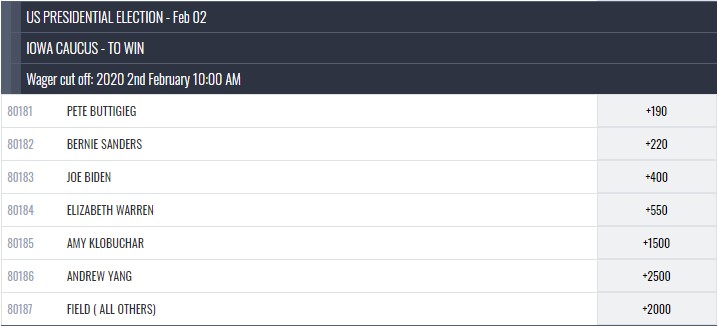 Because this is such a big moment, online sportsbooks have election odds for the upcoming caucus. Oddsmakers give the shortest odds to Mayor Pete Buttigieg for winning the Iowa Caucus. Buttigieg currently has +190 odds to win the Hawkeye State.
Right behind him is Sen. Bernie Sanders. Sen. Sanders has +220 odds of winning the Iowa Caucus. Online sportsbooks say that Joe Biden has +400 odds of coming out of the state as the victor. What is interesting is that polling data shows that all three of these candidates are in a virtual tie in Iowa.
Comparing To Polling Data
To win the Iowa caucus, it is a dead heat between these three candidates. Sen. Elizabeth Warren used to be a top contender to win the Iowa Caucus but she has fallen off in recent months. Polling from CBS shows that Sanders, Biden, and Buttigieg have 23% of the votes for Iowa. But the margin of error for the poll is 3.8 points. This means that it is really a three-way tossup between these candidates.
Polling data from FiveThirtyEight gives Biden a slight edge. However, the edge that Biden has is minuscule and can easily disappear once the actual event begins.
Betting on the Iowa caucus is going to be difficult for political bettors. Biden, Sanders, and Buttigieg all have a legitimate shot of winning the state. Some bettors may want to go with the candidate that will bring in the most money. Others will likely wager on who they would personally vote for.
Either way, there is not a lot of time left before the betting lines will be closed.